12 Of The Best Face Mists To Take Everywhere With You This Summer
on August 23, 2018
No Comments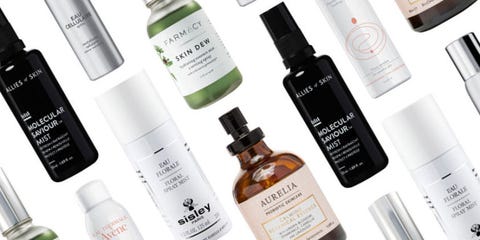 An iconic beauty product for a reason, Caudalie's classic face mist is 100% natural and formulated with grape, orange blossom and rosemary to help minimise pores and hydrate skin.Ideal for long haul flights where the air con kills your skin, this British-made face mist is infused with antioxidants and nourishing aloe vera to give your face a much-needed plump-over.We know what you're thinking: it's just water, right? Wrong. Stored in the fridge, this cult French pharmacy favourite is like a breath of fresh air in muggy weather. It blankets the whole of your face in a virtually traceless mist that feels comfortably refreshing, not sopping wet.
A product has to go above and beyond for us to buy it again and again, and this face mist does exactly that. Water molecules packed with nutrients like probiotics and antioxidants work their magic by binding to skin cells for much longer than other mists to erase all traces of blemishes, dullness and parched patches.
The added rosewater makes it the perfect mid-afternoon pick me up and has the clever knack of reviving flagging make-up when spritzed on throughout the day – keep a bottle by your desk at all times.Stress and fatigue don't stand a chance against Aurelia's Calming Botanical Essence. A light blanket over the face is like bringing the cool outdoors inside, but the best part is that it's brimming with the brand's special mix of probiotics, as well as chamomile and essential oils, to ward off inflammation and redness. And relax…One of Avene's Thermal Spring Water Sprays is said to be sold every twenty seconds in France – and for good reason. Like a drink for the skin, this face mist delivers a gentle surge of moisture and has the ability to soothe redness and irritation in seconds. Spritz on and use your fingertips to pat it in.Supercharged with mineral salts, this face mist mimics the moisture found naturally in your skin to help restore its natural equilibrium. A light veil is as cool and energising as a sea breeze and it won't ruin your make-up – city dwellers, stock up!This zippy citrus face mist works wonders to revive tired, stressed out skin and the added grapefruit acts like armour against pollution. P.S. It smells like a sun-soaked holiday on the Amalfi Coast – just gorgeous.We can't get enough of this lighter-than-air face mist and it's all thanks to the skin-soothing blend of aloe, natural herbs and rosewater. It'll lend a lacklustre complexion a dewy glow (read: not greasy) and seems to banish blotchiness in a matter of moments. Plus, it smells absolutely heavenly.A liberal spritz of this face mist is guaranteed to give even the dullest skin an otherworldly gleam and the cooling effect as each water droplet evaporates is oh-so-satisfying, especially in hot weather.Pixi's milky face mist is filled to bursting with moisture magnet hyaluronic acid which works to beef up skin cells for a plump and youthful look. One spray dispenses the perfect amount of product; haze it over clean skin before bed and you'll find it works a treat to make humid summer evenings more bearable – trust us.
Source:-Elle