The 7 Best Electric Toothbrushes You Can Buy, According To Amazon Reviews
on July 11, 2018
No Comments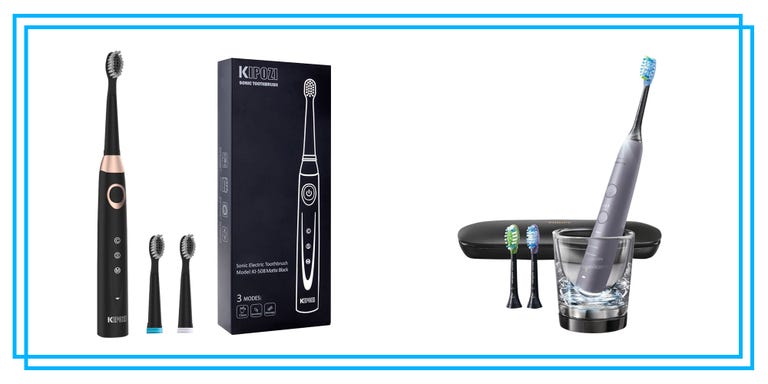 Guys, how awesome are electric toothbrushes?
You stick them in your mouth, push a little button, and let the brush take things from there. (They also require way less forearm effort and scream "I'm super serious about my dental health.")
Electric toothbrushes aren't exactly essential, but they can be helpful in a lot of situations, says Mark S. Wolff, D.D.S., Ph.D., dean of the University of Pennsylvania School of Dental Medicine—like if your dentist is constantly telling you you missed a spot, or if you're not great at sticking to the two-minute brushing time.
FWIW, the American Dental Association says that both manual and powered toothbrushes can be effective at getting plaque off of your teeth—you just need a little more skill with a manual brush. "The average person doesn't brush as well as they should, so electric toothbrushes can help," says Wolff.
But I get it: Electric toothbrushes clearly cost way more than your standard manual brush. Just keep in mind that you don't need to change out the head as often as you would a manual brush—every six months is fine for electric compared to every three to four for the O.G. version, says Wolff.
So, if you're just over pushing a brush back and forth over your teeth, it might be time to make the switch to electric. Take a look at the best electric toothbrushes on Amazon to take your brushing game to the next level.
1. Philips Sonicare Flexcare Platinum Rechargable Toothbrush
This toothbrush is sleek AF and claims that it can reduce up to 10 times more plaque than a manual toothbrush. It has nine (!) customizable brushing options, in case you want to mix things up, and a pressure sensor that lets you know if you're going at it too hard.
And people freaking love it. "Old toothbrush can't compare. Wife and I fight over whose bathroom it stays in," one reviewer wrote. (I'm just going to gloss over the fact that it sounds like these people share a toothbrush, tho.)
2. Oral-B Pro 1000 Power Rechargeable Electric Toothbrush Powered by Braun