The Best Hiking Socks for Summer Treks
on June 20, 2018
No Comments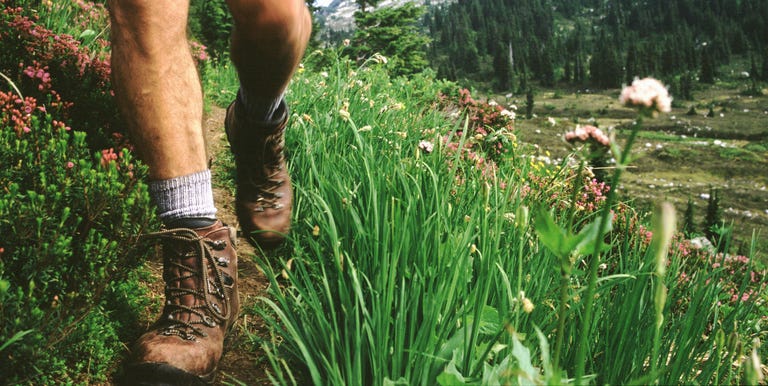 You've mapped out your route, planned every piece of needed equipment, and painstakingly selected your boots for your next hiking adventure. But don't overlook quality hiking socks, which can make the difference between a comfortable adventure and an unpleasant slog.
We walk you through some socks worth a look for summer hiking, all featuring merino wool, a naturally sweat-wicking fabric.
SmartWool PhD Outdoor Approach
Using a mix of 54 percent merino wool, 43 percent nylon, and a touch of elastane, the unique design uses the two elastics for improve stretch and recovery to keep the Smartwool PhD sock in place. The "Indestructawool" technology improves durability, while men's-specific mesh ventilation zoning adds breathability for summer movement. With a mix of PhD models, you can find the height and cushioning level fit for your plans.
Darn Tough Hiker Micro Crew
Guaranteed for life, the Darn Tough Hiker Micro Crew Cushion offers a seamless construction for an ultra-smooth feel. Designed with 61 percent merino wool, 36 percent nylon, and the balance Lycra spandex, the company includes "fine-gauge knitting" for a fit it says won't slip or bunch.
With mid-level cushioning and a height a touch shorter than the traditional crew, the merino wool helps with pulling moisture from the skin. If you need more cushioning or a different height, the Darn Tough lineup includes that versatility
Blending cushioning and ventilation, this lightweight Made in the USA sock from Farm to Feet uses a super-fine merino wool. Targeted full-density padding allows the sock to handle lengthy trips and targeted reinforcement zones up the strength of the sock. Using U.S.-only materials and construction allow for a high-level of durability in all Farm to Feet socks.
REI Lightweight Merino Wool Hiking Crew
Reinforced padding in the heel and toe, a stretch arch band and seamless construction all add up to a hiking sock designed for durability. Made in the U.S., the medium cushioning goes heavy on the merino wool. With 20 percent nylon, 1 percent Lycra spandex, and 79 percent merino wool, the REI version relies on the natural fiber for the heavy lifting in an affordable option.
Made 100 percent in the U.S., Switwick mixes merino wool sourced from the U.S. and olefin. The newest version, the Pursuit Hike Eight Heavy Cushion, went on the market this spring, mixes the natural wicking of merino with the strength of olefin fibers in the footbed for no friction. Using an arch band support, seamless toe box and contoured heel box, expect a compression fit. At differing cushioning levels and sock heights the Pursuit Hike offers a mix of options, including our pick: the Hike Six, a mid-weight summer option.
Icebreaker Hike+ Lite Crew
Using merino wool from New Zealand, Icebreaker has a high mix of nylon—41 percent—with its 57 percent of merino. An additional 2 percent of Lycra helps with the fit, which includes an anatomical toe box. The Lite versions creates a thinner, less cushioned sock that ventilates well and gives a completely summer-feel when pulling them on.
Wigwam Men's Merino Wool Comfort Hiker
A four-material mix of merino wool (67 percent), nylon (21), elastic (7) and acrylic (5), gives a different look for this Made in the USA sock. With a solid mix of cushioning in a bulkier sock, the Wigwam doesn't have all the high-end options of other brands, but still gives a high percentage of merino wool, helping you get the best material available for hiking at a slightly lower price point.
source:-.popularmechanics.