BE Exclusive: MagicPin looks to concoct a magic potion for brands
on April 26, 2019
No Comments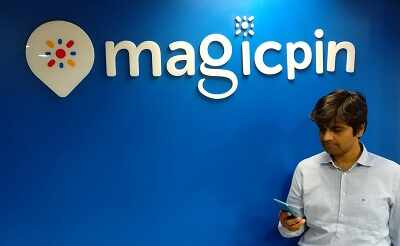 Even as brands continue to spend on above-the-line marketing (ATL), the dependency on digital has increased over the years. Within this, digital referral marketing is one such area which seems to be catching up fast among advertisers. It is here that start-ups such as MagicPin operate. "Much of the business has been generated through word-of-mouth and referrals. We primarily market our product through signboards that merchants put up above their shops. Our cost of customer acquisition is Rs 58, due to their referral based marketing tactic," Anshoo Sharma, CEO, MagicPin, said.
The platform which claims to have a monthly active user base of more than five million, works with eight lakh merchants including brands such as Pizza Hut, Mcdonald's, Fabindia, Levi's, amongst others.
"In the last one year we have seen good growth and we shall maintain the same growth rate for FY20 as well. We are currently clocking monthly gross merchandise value (GMV) worth Rs 200 crore. This is expected to go up by four times in 12 months," he added.
As per the digital referral marketing firm, it expects to register a 5.3% month-on-month growth in revenue. The company expects net revenue to increase five times to Rs 46.8 crore in FY19 from Rs 7.6 crore in FY18. Its net loss stood at Rs 28.9 crore in FY18, according to financial data accessed by business intelligence platform, Tofler. The company did not provide its net loss for FY19.
Sharma stated that the platform clocks one lakh transactions everyday, with the average ticket price (ATP) being Rs 1,000 for customers. "About 1.5 lakh new users along with 3,000 – 5,000 new merchants per month, join the platform, every month," he observed.
It should be noted that MagicPin originally started with food and beverage segment in 2015. Since then it has expanded to other segments such as fashion, beauty, pharmacies, grocery, sports, fuel and electronics. The app provides customers with cashback of 2.5% of their bill as reward points, known as magicPay.
"We use location intelligence to deliver discovery, recommendations, and rewards for local experience. The users earn points by sharing their experiences across categories through a selfie and a picture of their bill. MagicPin then collects the data from the bill and provides merchants and brands with the consumer data, outlining the failure of the merchant/brands' reach to the consumer," Sharma said.
Backed by America's Lightspeed Venture Partners, MagicPin has five offices including Delhi, Bengaluru, Pune, and Mumbai. Recently, MagicPin expanded its operations to Jakarta. The company currently employs about 500 staffers.
["source=brandequity.economictimes.indiatimes."]