For Global Economy, Slowdown in China Couldn't Be Better Timed
on November 14, 2017
No Comments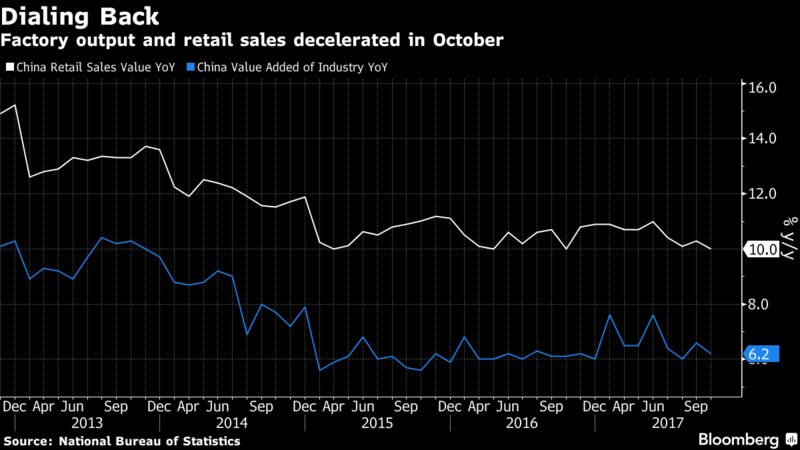 China's moderation in growth last month comes at the right time for a global economy that's benefiting from Europe's pick up and the U.S.'s strength.
That's especially the case if it means the world's second-largest economy is moving toward more sustainable drivers with less reliance on cheap debt. Click here to read details of Tuesday's data.
While China is far from falling over, the slowing of credit growth, industrial output, retail sales and investment helps validate the view that activity will moderate now that the Party Congress is all wrapped up. The thinking is that President Xi Jinping can now place less emphasis on arbitrary growth targets and take stronger action to rein in risky lending.
"In the current global setting, with synchronized growth, the pending moderate slowdown in China is not a major problem," said Louis Kuijs, head of Asia economics at Oxford Economics in Hong Kong. "While we expect China's contribution to global growth to come down next year, it remains solid enough not to be a serious threat."
What counts for moderation in China is still enviable by global standards, meaning China is forecast to contribute more than a third of global growth in 2017, according to International Monetary Fund calculations. Even as old-world economies begin to contribute more, those numbers mean that China's economy still matters a great deal for the rest of the world.
Click here to read how Asia will keep the global growth crown for a decade
Seasonal factors had some impact on the data in October, with days lost due to a holiday and the Party Congress, while pollution control as authorities seek to clean up the skies also weighed. But the dominant factor remains the government's desire to plow ahead with a deleveraging campaign.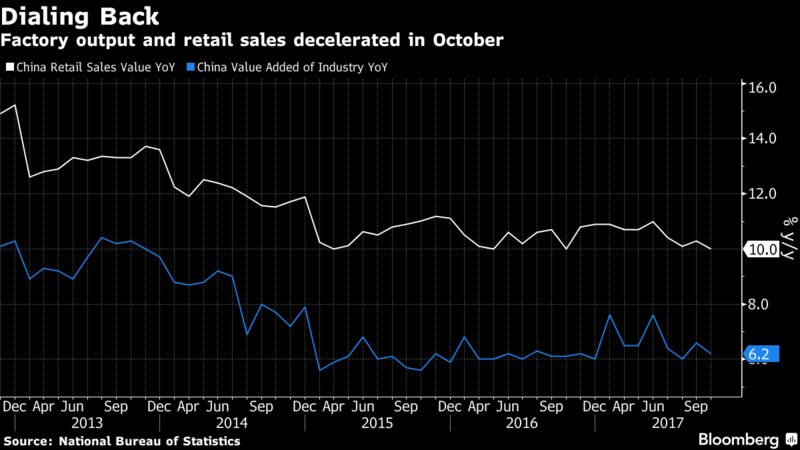 "After a year in which policy makers have been able to begin addressing financial risks without sacrificing too much on growth, trade-offs are going to start getting sharper," Bloomberg Economics analysts Tom Orlik and Fielding Chen wrote in a note.
Credit figures for October showed broad money supply growth was the slowest since at least January 1996 and indicators for credit growth fell to their lowest in a year.
While credit supply typically slows toward the end of the year as banks exhaust their quotas, officials point to the slowing of M2 as the prime indicator that their campaign to weed out excess borrowing is working.
The People's Bank of China has also been guiding market interest rates higher. And amid concern over the debt campaign, selloff in Chinese sovereign bonds has deepened, with the yield on 10-year notes reaching 4 percent for the first time in three years.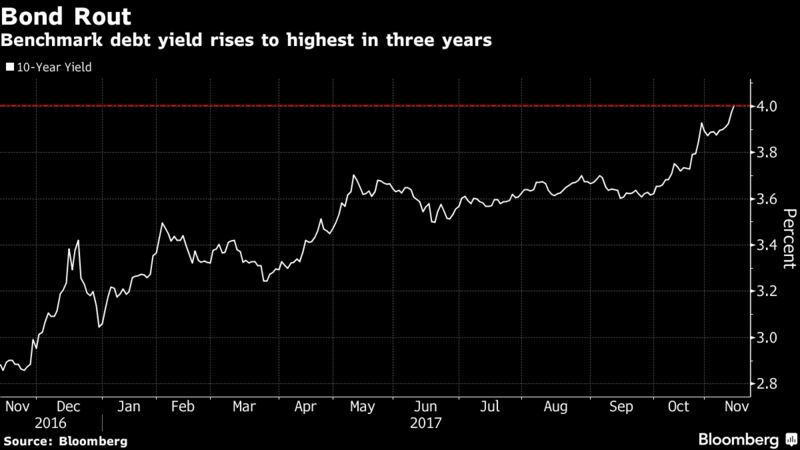 Still, officials aren't likely to allow growth to crater either. A spokesman for the National Statistics Bureau told reporters Tuesday that the economy remains in a reasonable range with a solid base and inflation at an "ideal" level.
If China can manage to transition to a growth model fueled less by debt and more by durable demand, that offers the world a more sustainable plank of support. The indications are that China is on track to stabilize debt and is making better progress than expected, Chetan Ahya, co-head of global economics at Morgan Stanley in Hong Kong, wrote in an email.
"China has also continued to make further inroads in its key transitions of consumption, re-balancing and moving towards higher value-added economic activity," he said. "Against this favorable macro backdrop, we now expect a near-stabilization of debt to GDP by the second half of 2019 and China would be able to achieve high-income status by 2025, two years ahead of our initial expectations."
["Source-bloomberg"]