What Happened This Week in the World Economy and What It Means
on September 15, 2018
No Comments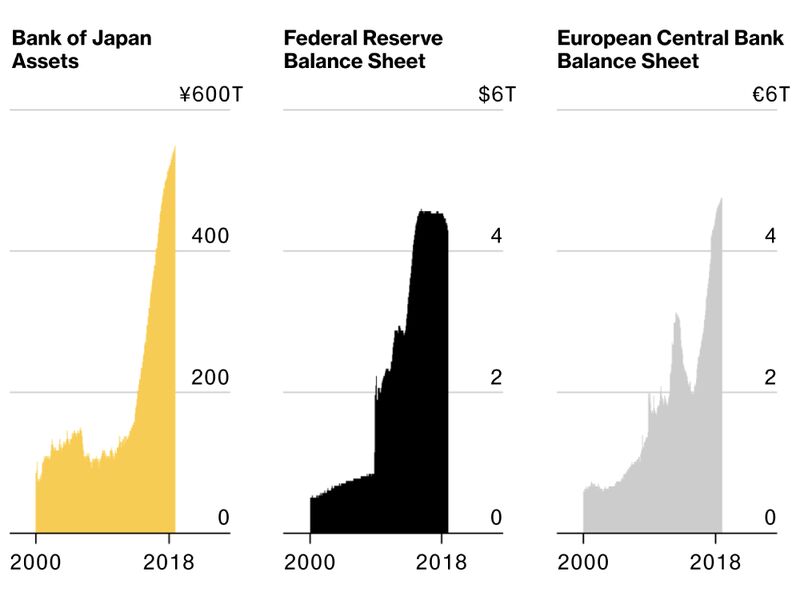 By U.S. tradition, anniversaries of 10 years are celebrated with tin and aluminum.
To mark a decade after the Lehman Brothers collapse, the global economy instead received a very mixed scorecard this week, with developed markets getting good news, emerging markets finding building stresses, and everyone bracing for the next fragile steps on trade.
Here's our weekly wrap of what's going on in the world economy.
Global Outlook
A decade on from the collapse of Lehman Brothers, the global economy still has the scars to show for it. The growth picture this week proved similarly mixed: While emerging market stress is building, top developed markets were full of good news. The ECB may have cut its growth forecast, but said the euro-area economy is solid enough to cope with global risks. The U.K. economy posted its fastest expansion in almost a year, Japan chalked up the best growth in almost two years, the U.S. labor market showed more signs of charging ahead, and wage gains in all three of those economies are showing progress – perhaps most a relief for Haruhiko Kuroda. Still, the year 2020 is emerging as a popular point in time for when the next economic downturn may arrive.
Emerging-Market Pain
The good news was hardly as rampant among emerging markets, with the biggest one sparking troubling talk of stagflation as slow Chinese growth is paired with rising prices. The weakest-ever rupee is frustrating India's policy makers, and inflation isn't going away. U.S. sanctions against Russia could be friendly fire against other emerging markets. Bloomberg Economics takes a look at what happens if things go south in China and the rest of emerging markets at the same time.
In Turkey, the central bank jacked up its benchmark interest rate by 625 basis points to 24 percent on Thursday to stabilize the country's finances. The decision came hours after President Recep Tayyip Erdogan triggered tumult by repeating his hostility to higher borrowing costs. That defiance by Turkey's rate setters also made the job easier for the central bank in Russia, which unexpectedly raised rates on Friday even after the Kremlin channeled Trump with a public swipe at the idea of interest-rate increases.
Trade Bargaining, Bullying
The U.S. and Canada restarted long-running talks over a new Nafta, while U.S.-EU negotiations appear to be going well with both sides looking for substantial changes. With frictions as heated as ever on the China front, the U.S. is asking China back to the negotiating table. An exports undershooting in China shows the toll of tariffs, and China looks to take vengeance in a dumping dispute with the help of the World Trade Organization. German investors are feeling a bit calmer about the trade landscape, and Vietnam finds reasons to be upbeat, even with the threat of U.S. tariffs on $200 billion in Chinese goods still looming. That basket of duties could get personal, hitting American wardrobes hard along with other household goods.
Source:-bloomberg