Lenovo Yoga 720 review: Discrete GTX 1050 graphics is worth the weight
on September 14, 2017
No Comments
The Lenovo Yoga 720 may look like a mainstream laptop, but underneath its mild-mannered exterior is a secret power: discrete Nvidia GTX 1050 graphics. It's not a super-power—you can find gaming laptops with more powerful GPUs. Stuffing a discrete GPU into a laptop creates some compromises, too, especially in weight and thermals. Still, the Yoga 720 gives you some gaming chops for a reasonable price. Considering it's also a 360-degree convertible, you're getting a lot of versatility for the money.
TABLE OF CONTENTS
Price, specs, and features
Audio, keyboard, and trackpad
Yoga 720 performance: Nipping at the XPS 15
Battery life: The Yoga 720's 1080p screen helps
Conclusion
Price, specs, and features
The model we tested (80X7001WUS) is actually on the lower end of the Yoga 720 product line at $1,260 as of this writing. Lenovo skimps here and there to keep costs down, as you'll see when we go through the specs, but don't judge it until you see how it performs in our tests.
CPU: Intel Core i7-7700HQ. This is a fast mobile processor that you'll also see in the premium Dell XPS 15. It's a 7th-generation Kaby Lake part with four cores and eight threads, and you'll see what they can do in our CPU-intensive performance tests below.
RAM: 8GB of DDR4 2,400MHz. You'd have to shell out at least $90 more to get a 16GB model in this product line, and the single-channel memory may also be a slight detriment to the Yoga 720's performance.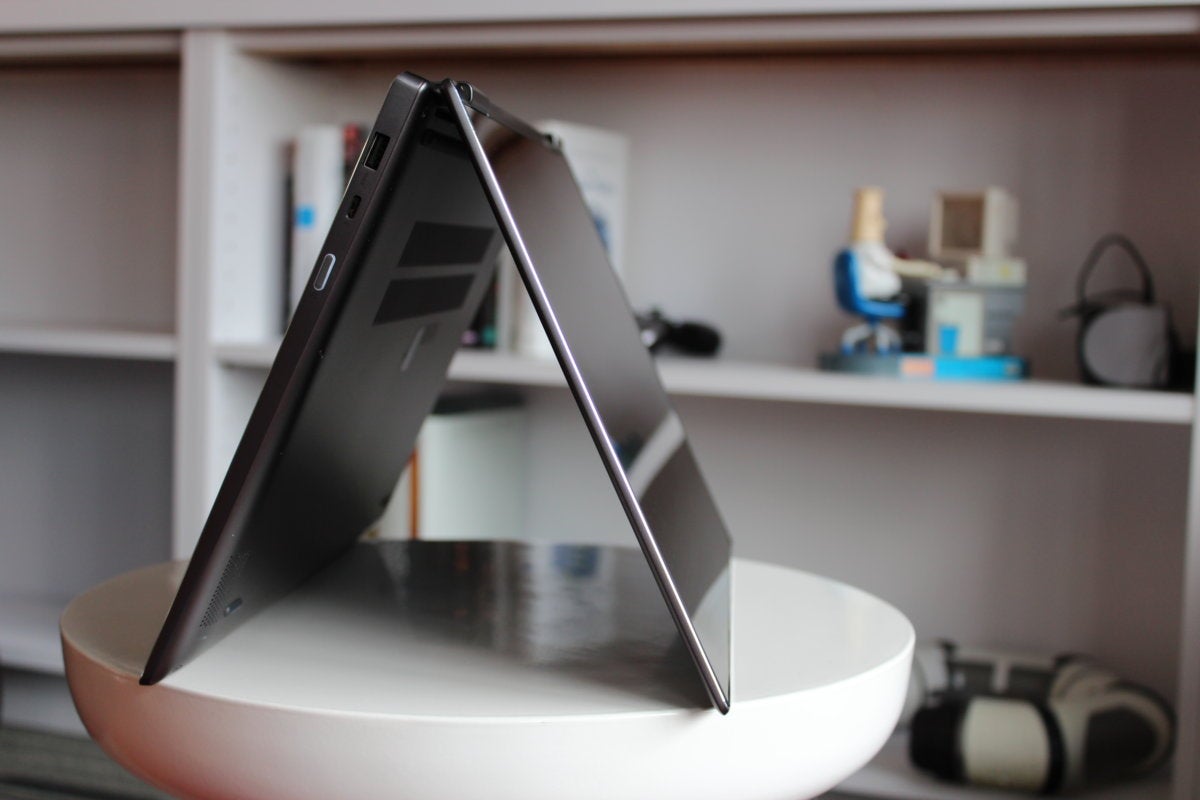 GPU: Nvidia GTX 1050 with 2GB of memory. As noted above, you can find laptops with higher-end GPUs, but this one strikes a good price-performance balance. There's also integrated Intel HD 630 graphics
Display: 15.6-inch FHD (1920×1080) LED IPS touchscreen with a 720p camera along the top bezel. This display looks crisp, but we measured the maximum brightness of our test unit's screen at just 296 nits. This is enough for most situations (250 nits is a good level for indoor use), and it likely helped Lenovo shave off a little cost compared to laptops whose displays shine as bright as 350 or even 400 nits. If it's any consolation, brighter display settings use more battery life.
The Yoga 720 also comes in versions with a 4K screen. While that lofty resolution is always tempting, it's important to note that such displays tax a laptop's GPU and battery life. You can see the difference in our Performance section, where we compare the Yoga 720 to the 4K-equipped Dell XPS 15.
The display can accept pen input, but a Lenovo Active Pen is not included with our model.
["Source-timesofindia"]