The literary life of Michiko Kakutani: the book critic's best feuds and reviews
on August 2, 2017
No Comments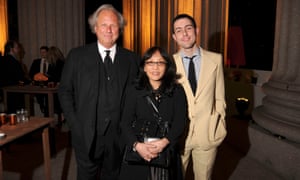 Michiko Kakutani, the New York Times' revered chief book critic, announced she was stepping down from her post on Thursday after 38 years, marking the end of a career that inspired both admiration and fear in the hearts of the writers whose books she reviewed.
Kakutani was America's most powerful literary critic, someone who, with the stroke of a pen, wielded immense influence over the careers of both budding and established novelists. Over the course of her tenure at the Times, Kakutani was remarkably guarded, making few appearances in public and allowing her reviews to speak for themselves. In honor of a critic so widely celebrated – the scribe behind pieces that launched the careers of David Foster-Wallace, George Saunders and Zadie Smith and angered quite a few others – here are her best feuds and reviews, broken down.
The feuds
Kakutani v Franzen
Part of what so attracted readers to Kakutani's work was her constant objectivity, a quality that was on display in her ability to write admiringly of an author and then, if underwhelmed by a later release, roast them over a fire. Kakutani praised Jonathan Franzen's novel The Corrections as a "devastating family portrait and a harrowing portrait of America in the late 1990s", but was less intrigued by his 2006 memoir The Discomfort Zone, questioning "why anyone would be interested in pages and pages about this unhappy relationship or the self-important and self-promoting contents of Mr Franzen's mind". The novelist fired back in an interview with the Guardian, calling Kakutani "tone-deaf and humorless". Then, two years later, at a discussion with James Wood at Harvard, he upped the ante by referring to the critic as "the stupidest person in New York City".
Kakutani v Mailer
Kakutani reviewed Norman Mailer's 2006 novel The Gospel According to the Sun, a first-person autobiographical retelling of the Bible from the perspective of Jesus himself. She called it "a silly, self-important and at times inadvertently comical book that reads like a combination of Godspell, Nikos Kazantzakis' Last Temptation of Christ and one of those new, dumbed-down Bible translations"; Mailer, never one to shy away from a writerly squabble, called Kakutani a "one-woman kamikaze" in an interview with Rolling Stone. He then suggested the Times only retains Kakutani because she's a woman of Asian descent: "She disdains white male authors, and I'm her number-one favorite target," he said. "But the Times editors can't fire her. They're terrified of her. With discrimination rules and such, well, she's a threefer, Asiatic, feminist, and ah, what's the third? Well, let's just call her a twofer. She is a token. And deep down, she probably knows it."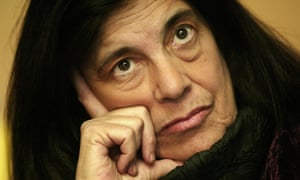 Kakutani v Sontag
After Kakutani panned Susan Sontag's book Regarding the Pain of Others, the late Susan Sontag was less than pleased. "Her criticisms of my books are stupid and shallow and not to the point," she told the Independent. "It was a dumb, bad review as opposed to a smart, bad review. I expected better of her." As for the review in question, Kakutani called the book, an extended essay in which Sontag probes war different 20th century visual representations of war, "ambivalent", adding, "Is it really a revelation that a picture can sometimes be worth a thousand words?"
Kakutani v Updike
Fifteen years ago, Kakutani wrote that in John Updike's Seek My Face, a roman à clef novel that drew inspiration from the lives of the artists Jackson Pollack and Lee Krasner, "it's impossible for the reader to find a single believable character". For good measure, she added that the book seemed to be written "by a lazy, voyeuristic and reductive hand". Updike returned the favor, telling a reporter that he's largely unscathed by "professional reviewers like Michiko Kakutani, who handles so many books that there's a secret hatred of all books that runs through, or a wish to dismiss".
Kakutani v Foster-Wallace
In her 1996 review of David Foster-Wallace's sprawling novel Infinite Jest, Kakutani sprinkled a bit of snark in an otherwise glowing review. While she wrote that the 1,096-page epic cemented Foster-Wallace as "one of the big talents of his generation, a writer of virtuosic talents who can seemingly do anything", she also quoted Henry James in calling Jest a "loose, baggy monster", adding that it read like a "vast, encyclopedic compendium of whatever seems to have crossed Mr Wallace's mind". In his 2012 biography of the late Foster-Wallace, DT Max wrote that the writer "told a friend he hid in his room for two days and cried after reading yet another paragraph devoted to parallels between his first book and Pynchon's most popular novel". In public, though, Foster-Wallace seemed to lend little credence to Kakutani's criticisms: in an interview with Laura Miller, he said: "If the length [of Infinite Jest] seems gratuitous, as it did to a very charming Japanese lady from the New York Times, then it arouses ire."
[Source"pcworld"]