Review: The year's best movie (so far) opens in Omaha Friday
on May 30, 2018
No Comments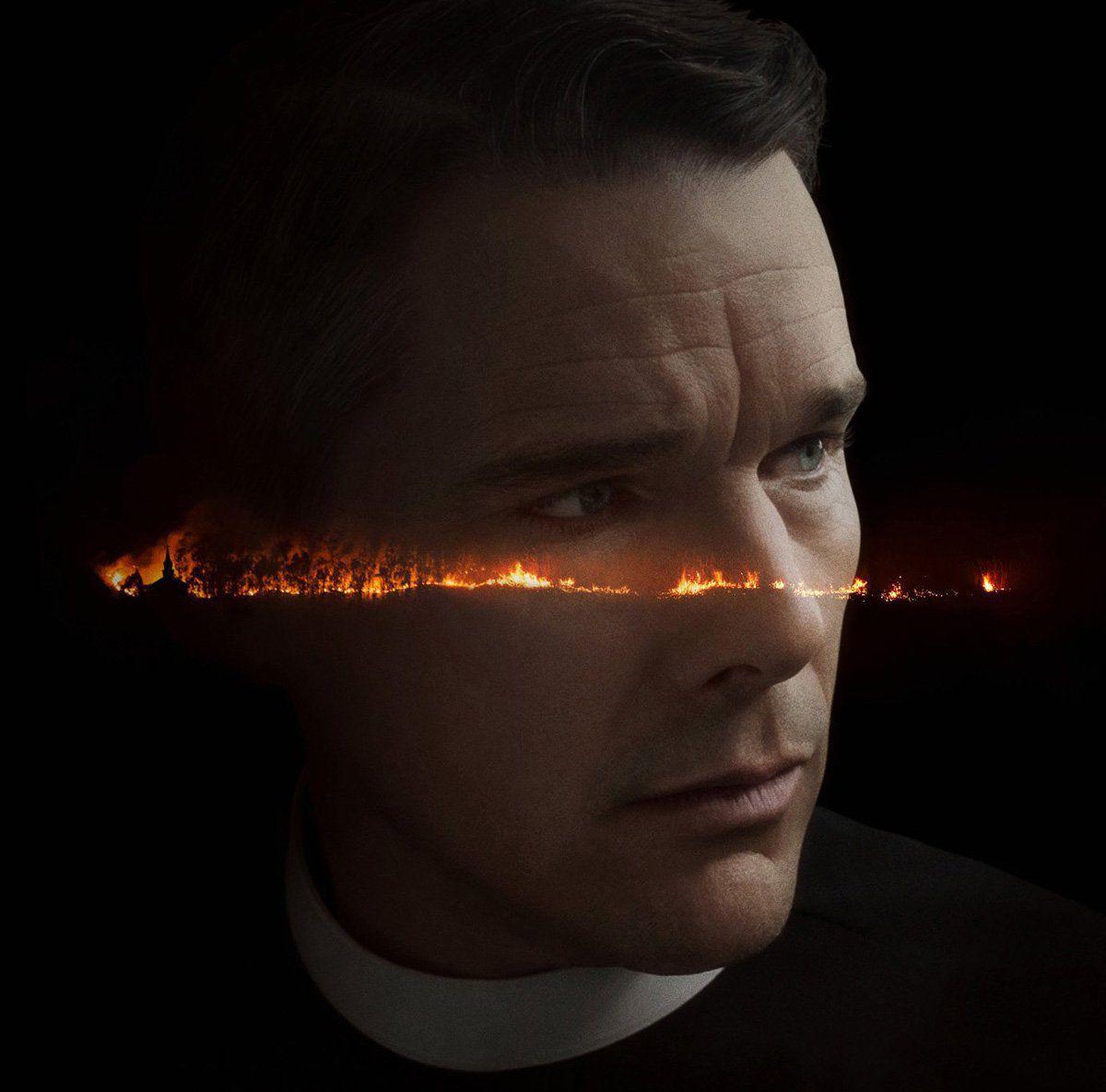 As the ecological apocalypse approaches, a man sits alone in the room of an old church — drinking, praying, wondering if God can forgive us. He is also, ever so slowly, making a plan.
In the end, Paul Schrader's "First Reformed" is a lot of things: outrageous, preposterous, profoundly unsubtle. It is also easily the best movie I've seen so far this year — a rich slice of slow cinema served up with a side of deranged ecstasy, taking turns as bold and baffling as any (good) film I've seen in years.
I can't promise you'll have the same reaction as me. But I can say that you will have a reaction. This is not a film that elicits indifference.
But that's pretty much true of all Paul Schrader movies.
The now 71-year-old filmmaker has had a long, odd and often brilliant career. A Calvinist-raised intellectual who hadn't seen a movie until he was 17, Schrader started as a screenwriter, penning some of Scorsese's best movies ("Taxi Driver," "Raging Bull," "The Last Temptation of Christ"). He soon after branched out into his own features, writing and directing such films as "Blue Collar" and "American Gigolo." Schrader's '80s output was solid, and he finished the '90s strong, writing the chilly murder mystery "Affliction," which starred Nebraska natives Nick Nolte and James Coburn.
But things took a turn in the '00s. Schrader was fired from an "Exorcist" prequel. Hollywood stopped giving him money to make movies. He and Bret Easton Ellis took to Kickstarter to fund their erotic thriller "The Canyons" (and succeeded). But that quickly became a calamity due to the on-set behavior of its erratic star, Lindsay Lohan. In 2014, Schrader's Nic Cage espionage thriller "Dying of the Light" was taken away from him, recut and ruined. Schrader disowned the film and thought his career was over.
And yet here we are a few years later with "First Reformed" — Schrader's best film since his first film ("Blue Collar") and a distillation of the director's whole career, imbued with all the power and the glory (and the pulp) of his finest work.
"First Reformed" takes its name from an old Dutch colonial church in upstate New York, where a Reverend Toller (Ethan Hawke, whose insanely good performance grounds the film, even at its craziest) tends to his scant few remaining parishioners. In his downtime, Toller broods alone in his candle-lit room.
The good reverend is troubled. A former military chaplain, he lost his son to the Iraq War and is racked with guilt: Toller was the one who encouraged him to enlist.
Divorced and functionally alcoholic, Toller has washed up at this "souvenir shop" of a church, where he laments his past, wrestles with his faith and silently loathes humanity.
He's shaken out of his stupor when a young couple asks for help. Amanda Seyfried plays the pregnant Mary (a'hem), and Philip Ettinger is her tortured husband Michael. Michael is consumed with dread over climate change, and he doesn't want to bring their child into the world.
Mary gets Toller to talk to Michael, and in helping the younger man, Toller finds a new sense of purpose. He's awake again.
Then things start to go wrong. Mary finds a suicide vest in the garage. Toller's physical and mental health deteriorate. He butts heads with the pastor of the nearby megachurch (a superb Cedric the Entertainer, going by his real name: Cedric Kyles).
First Reformed is about to celebrate its 250th anniversary, prompting a photo-op event for the governor and the oily local businessman whose donations have kept the church standing. As Toller prepares for the ceremony, he begins to adopt Michael's cause as his own, focusing his outrage on how irreversibly humanity has trashed God's creation. He rages in particular at his own complicity. He has preached the solace of the afterlife, he believes, at the expense of this world.
And ever so slowly "First Reformed" shifts gears from a meditative drama to a nerve-fraying political thriller.
The movie brings out both sides of Schrader: the film scholar and the showman (Criterion Collection and grindhouse).
Before he wrote "Taxi Driver," Schrader was a film critic, a protege of Pauline Kael who studied and championed his movie heroes: Robert Bresson, Carl Theodor Dreyer and Ingmar Bergman. "First Reformed" cribs the style (and even some of the plot elements) of those directors' "transcendental" films.
Framed in the squarish Academy ratio, "First Reformed" is a work of long takes and minimal camera movement. Music is scarcely used. The production design is plain. The filmmaking is as severe and austere as the First Reformed church itself.
Yet "First Reformed" is reminiscent of "Taxi Driver," if not in style then in narrative structure. Like Travis Bickle, Toller keeps a rage journal. Like Bickle's incendiary prose, Toller's writing frames the film as voiceover, his disgusted internal monologue juxtaposed (often humorously) against the drudgery of his day.
In the third act, Schrader the showman shows up. A dread-inducing thrum creeps into the sound design. The filmmaking gets more stylized. And on two occasions — one of them the climax — the film loses its damn mind.
These scenes will provoke reactions that run the gamut. Awe, nervous laughter, utter contempt — all appropriate responses. One moviegoer's ecstasy is another moviegoer's agony.
"First Reformed" takes the kind of big, honkin' swings that movies are rarely allowed anymore, leading to sublimely strange moments that could only come from a filmmaker who has already failed and triumphed enormously. From an artist with nothing left to prove, nothing left to lose, amen.
source:-.omaha.c